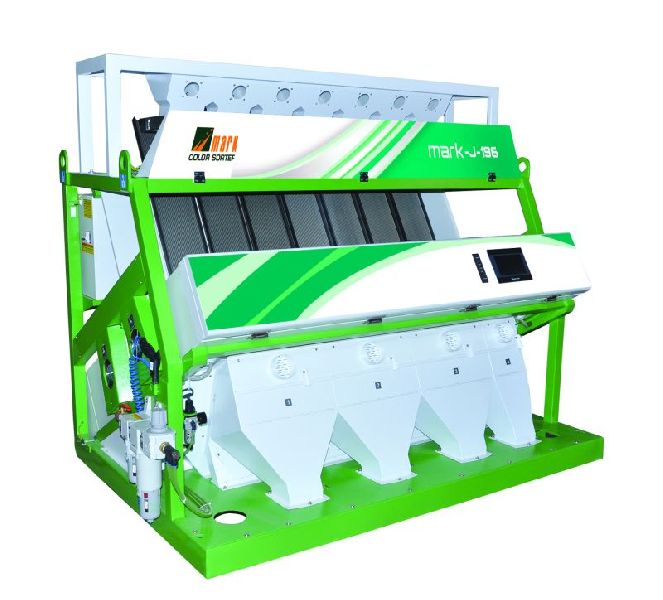 Color sorters are the machines with advanced technology, which are used on the food production lines in bulk processing and other industries. The machine mainly works by scanning a variety of grains through a very high-speed camera. It also throws out the impurities and low-quality grains by pneumatic pressure. When it comes to superior quality color shorter, Mark color sorter is one of the finest ranges available in the market, which can be used for sorting an array of grains and seeds.
In just a few years a large number of millers all over India and even overseas have chosen mark color sorters to make their products free from impurities and become ahead in the competitive market. The Mark color sorter machine manufacturers are committed to producing the best color sorter in the market. They understand the needs of the industry and focus on the best design and technology along with the best manufacturing facility. Mark color sorter machine manufacturers apply the most stringent quality control through the entire production process.
The majority of the components used in the Mark color sorters are sourced from the best vendor in the market. These color sorters use high-speed cameras and high-speed ejector valves to give a high-level sorting performance and minimum product loss. The Mark series color sorter gives a significant performance in all kinds of food grains such as rice varieties, pulses, wheat, seed, coffee, nuts, beans, millets, etc. Let's take a look at some of the benefits of Mark color sorters-
• Improve Food Safety:
The series of Mark color sorters provide great safety for edible items. The machines are available with a high-resolution sensor for precise detection. You can get the safest grains by removing impurities and pollutants. With these machines, millers can conveniently monitor the quality of the products and easily launch those in the market.
• Developed And Designed To Deliver The Highest Capacity Solutions:
The Mark color sorters are specifically designed to deliver the highest capacity solutions. Normally these sorters can be combined in series to improve the capacity requirement.
• Increase productivity And Decrease The Operational Costs:
The most remarkable features of the Mark color sorters enable fast production with efficiency. These machines are known for reliable and user-friendly operation. The compact design of the machine minimizes the consumed area and takes minimum space. These highly advanced machines even reduce labor costs and other management issues.
To avail Mark color sorters, you need to look out for a reliable Mark color sorter machine supplier in India. You can even count on a Mark color sorter machine manufacturer in Tamil Nadu for a series of Mark color sorter including Mark J 196 4 Chute Color Sorter, Mark J 280 4 Chute Color Sorter, Mark J Max 280 5 Chute Color Sorter, Mark J 400 5 Chute Color Sorter, Mark JX 120 3 Chute Color Sorter, Mark JX 196 4 Chute Color Sorter, Mark JX 180 5 Chute Color Sorter, etc.