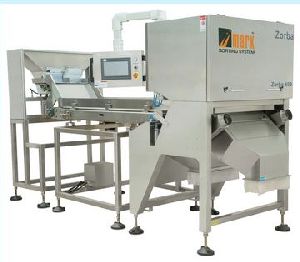 Owing to the tedious manual job and the present global scenario, India's cashew processing is becoming more daunting. For a cashew supplier to maintain its ranking and stand out, they need to rely on the best cashew nut colour sorter machine manufacturer. This is because quality is of utmost importance when it comes to staying ahead of the competitive world. Investing in cashew nut colour sorter machines is important if you want to play smart as a supplier and manufacturer of cashew nuts.

How Cashew Nut Sorter Machine Have Become Important?

One of the most sensitive matters in India is mechanisation, given the number of people who are engaged in the cashew processing domain. However, with the development of the Indian economy, only a handful of people prefer taking up such a tedious job. The present generation would rather be interested in getting involved in cashew nut grading, sorting, peeling, and shelling. The dependency on machines has become more prevalent, thanks to the demand for premium-quality cashew nuts. Thanks to the highest automation levels of cashew nut colour sorter machines, the cost of processing is also low. The demand for superior-quality cashew nuts is on the higher side at present than before.

The Multiple Benefits Associated with Cashew Nut Sorter Machine

The cashew nut industry is encountering quite a few challenges, out of which the sorting part can easily be fixed once you buy the sorter machine from the cashew nut colour sorter machine manufacturer in India. Through these machines, you can easily reap the advantages of mechanised sorting. Some of the most well-known advantages of cashew nut colour sorter are:
• Reduced fixed labour charges
• Yielding of processing
• Improvement of cashew nut sorting and grading
• Catering of cashew quality and safety

Through the cashew nut colour sorter, you can also meet the export market's requirements forthe highest-quality cashew nuts.

How Cashew Nut Sorter Machine Manufacturer Are Helping the Food Industry?

To help the food industries accomplish advanced quality cashews, the cashew nut colour sorter machine manufacturer in India is offering various kinds of sorting machines. Some of the demanded sorting machines in India include:
• TOMRA 5B
• TOMRA 3C

Both of these machines put high-resolution cameras into use and are capable of efficient and quick detection followed by removal of flawed and damaged nuts, loose nut skins, nut belly defects, and nut oil patches.

The Technologies Used by Sorter Machines for Effective Detection

You must look closely at how the cashew nut colour sorter machines detect the damaged good cashews. While the TOMRA 3C sorter machine features an integrated both-sided RGBI camera which for the colour, shape, and foreign material detection in cashew nuts uses a combination of high-intensity lighting. You can also either use the machine itself or combine them with NIR technology if you wish to monitor the product to detect structural and biological flaws.

The TOMRA 5B deploys a unique technology that runs inclusive of a 360-degree camera. This machine sorter monitors objects under an LED light dome that took over a sorting belt to help the slightest colour variation detection, resulting in superior-quality sorting.

You can sort out good cashews through a cashew nut colour sorter. This will enable your customers to receive the best quality cashews and too easily and quickly.