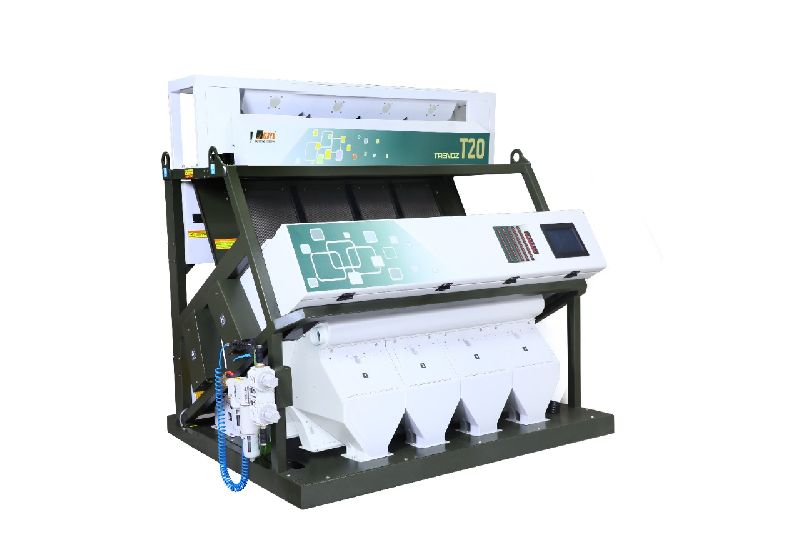 Any Grain Color Sorter machine or a Chana Dal Sorter Machine is a piece of automated equipment that allows items to attain the desired uniform colour and texture, hence transmitting quality. It works by checking a grain line with a high-speed camera and ejecting impurities and low-quality grains using pneumatic pressure. This approach divides grains into two categories: approved and refused (can be commercialised for other purposes, such as animal fodder.
Working Procedure:
Input materials are delivered from the upper hopper. The vibrator mechanism causes the raw material to fall into the observation area of the treatment cabinet. It then moves between the detecting and backdrop layers. The LED light source powers the system's outlet signal, which drives the solenoid valve, allowing the heterochromatic items to be blasted into the trash exhaust hopper. The accepted substance proceeds to drop into the finished product compartment of the acceptance hopper to provide a colour separating function, based on the brightness of the light and colour change.
Color Sorter's benefits may be summarised as follows:
● Quality - Colour Sorter machines in food have improved in quality. Product quality may be readily tracked and released for sale by manufacturing businesses.
● Speed - Colour Sorters are fully automated, with no delays in quality control. In actuality, it accelerates the quality control process by reducing human repercussions like fatigue and strike.
● Return on Investment - Color Sorter machines offer a high ROI since they are one-time purchases that require little upkeep.
● Labour - Automation decreases labour expenses and managerial issues. It also significantly reduces the stated margin of error, largely human faults.
● Multi-Functional - A product that is especially appropriate for rice, tea, sesame, beans, seed, raisin, or other coloured regions. This substance has been used in agriculture, the grain industry, chemistry, medicine, and other fields.
● High Efficiency - When compared to human sorting, the colour sorting machine saves time, and resources, and delivers excellent efficiency with much lower operating costs. This will considerably improve content accuracy, resulting in good consequences for customers all across the world.
The benefit for workers is the opportunity to expand their abilities in the organisation, moving away from uninteresting occupations that demand them to repeat the same actions over and again. Sorting systems that are automated do not require breaks or time off. They can also process a higher number of items and packages in a shorter length of time.
Accuracy is possibly the most crucial aspect in many industries throughout the world. Sorting machines must function not just rapidly, but also economically and effectively, while never compromising quality.
Human error is commonly involved in a lot of less-than-accurate situations that occur in a facility, particularly a package sorting facility. The bulk of these problems has been alleviated with the development of automated sorting technologies. The advantage is that operations are held to a continuously higher quality, which may boost an organization's exposure and bring in new clients.
Businesses might explore automatic sorting machines for a variety of reasons, including enhanced worker safety, higher quality, and lower prices. Because they can sort all sorts of parcels and items, regardless of size or shape, they can fit into any operating process and bring great value.