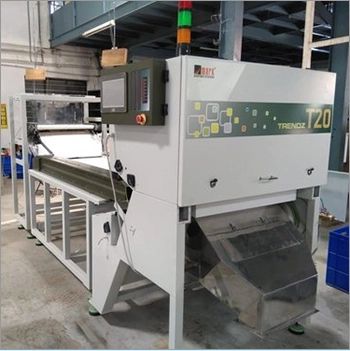 Garlic has had medicinal benefits since ancient times and is widely used as a home remedy for preventing various digestion problems and diseases. Garlic adds flavour to the cooking and is widely used to make it tasteful. Garlic can be used to treat different types of blood and heart-related conditions like high cholesterol, heart attack, heart diseases and hypertension. Garlic has anti-oxidant properties that prevent different types of cancer.
Therefore, a dry garlic peeling machine is used to peel garlic cloves to be used readily in cooking. It has an air compressor and an air jet that peels garlic cloves. The garlic added to the food adds taste and is beneficial for health. With time, advancement has been made in the machine and the garlic peeling machine prevents it from damaging after peeling. There were machines which were using the technology of soaking the garlic in water and then peeling the skin.
However, with time, such technology has changed. This garlic peeling works quickly and saves labour costs. The garlic peeling machines are available with different types of capabilities that use the pneumatic principle for peeling. Here are some of the benefits of the Peeled garlic Sorter machine
Reduces Labour cost
These peeled garlic sorter machine reduces labour cost and increases the production and profit of the organisation. The machine ensures high-speed production and also saves electricity costs. Due to the high accuracy of the machine, downtime is low and can be used for a longer period.
Saves time
These peeled garlic sorter machines are highly efficient and process the machine with higher accuracy of sorting and completing the work within the stipulated time.
Durable
These peeled garlic sorter machines are designed by using superior quality and innovative technology with industry norms. Due to its accuracy and efficiency, it can be used for a longer period with less maintenance.
Corrosion resistant
This peeled garlic sorter machine is manufactured using stainless steel and using semi-automatic technology. Due to its highly strong parts and structure, it is corrosion resistance. Due to its unique quality, its performance is high and can be for a longer period.
Extremely strong
These peeled garlic sorter machines are remarkably strong and manufactured under meticulous and stern management within the stipulated time frame. These machines are manufactured using premium quality with extreme design. Due to its high strength, it has a capacity of production of 80-150kg/hr.
Easy to operate
These machines are easy to operate and can be run by any person with minimum knowledge. Due to its high quality and automatic feature peeling method can be separated easily without injury. The easy-to-operate facility will ensure a quick production line will increase the profit of the organisation.
So, we can conclude that the Peeled garlic sorter machine can be operated easily and high strength can run for a longer period. So if you are desirous of buying these machines then make sure of the above-mentioned qualities and make adequate research about the supplier. These machines use the pneumatic principle and separate the skin from the clove without injury. These machines are highly efficient and with due accuracy work effectively. They offer adequate results with low power consumption and thus save labour costs and time for the organisation.