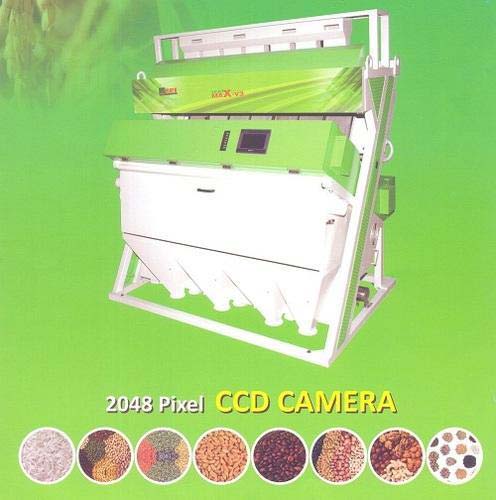 Colour sorting machines are sometimes also known as optical sorters, electronic colour sorters, or digital sorters. These machines are used in the production section of any food processing. As the name suggests, these machines detect the colour of the grains; for example sesame sorter,it picks out the colour of the grains and separates them accordingly.
There are basically two types of colour sorting machines available-
• Belt-Type Colour Sorter-
The belt-type colour sorter machines transfer material through the belt. This sorter is used for separating fragile and light materials. And it is mostly really expensive for buying. During the process of transport the materials move horizontally; the product remains static. The belt structure has made the transmission stable and smooth.
• Chute-Type Colour Sorter-
This type of colour sorter has a vertical sliding chute. The output of this colour sorter is pretty high whereas the price is comparatively low. It can sort a wide range of items, for example, corn, rice, wheat, etc. But the drawback is, this colour sorter is not appropriate for sorting lighter materials.
Sesame Colour Sorting Machine Manufacturers-
There are many companies that make colour sorting machines. There are many such companies who are famous exporters and manufacturers of good range of colour sorting machines. Their purpose is to make such machines which can be used for sorting various material and food grains.
For example, you can find many sesame colour sorter machine manufacturer, who have made efficient machines at an affordable price range. The product range stays inclusive of grain colour sorter, dal colour sorter, boiled colour sorter, colour sorter, and so on.
Sesame Colour Sorting Machines-
There are many famous and established sesame colour sorter machine manufacturer in Tamil Nadu. They have machines of supreme quality which have very high demand in the food processing industry. Those colour sorting machines are so efficient that they can accurately sort all range of shapes and colours.
These sesame colour sorter machine manufacturer in Tamil Nadu have made their machines with the help of excellent quality components and best technology. They consume low power, provide high performance; they are easy to operate and sturdy construction.
You should always go for the sesame colour sorter machine supplier, who supply machines having high-speed communication system, HD lens, camera quality of ultra-high definition, intelligent image processing, illumination.
These companies that supply colour sorter machines have professionals working with them, who work with full dedication to meet the demands of their clients. Choose an efficient colour sorter machine supplier to make sure you get the best products in specified time span.
Choose a manufacturer who can give the client a sense of security about the product quality. And an excellent packaging unit helps in keeping their product safe by wrapping them in high-quality material. All these things help in trust gaining of the customers. Therefore, even you should go for experienced and well-known companies, as they have more knowledge about their field and you can also be assured about the kind of product you will be receiving.